Staff
Our professional staff is committed to the educational and athletic success of your child. We work with students to provide them with the training they need to achieve their goals.
Academics & Administration
Charles (Chuck) and Tami Lucius, Founders
Chuck and Tami founded Gentry Academy based on the passion they share for athletics, elite academics and leadership. In addition to their desire to see youth succeed, they are the founders and owners of Gradient Financial Group, LLC, which has grown into a leading financial organization. They are inspired by family and guided by responsibility, innovation, leadership, discipline and relationships. This ideology is evident in their desire to teach and inspire youth to achieve their fullest potential.
Jennifer Kurth, M.Ed, Education Director and Teacher
Jennifer has her master's degree in education administration from Saint Mary's University of Minnesota and boasts a K-12 administrative license, as well as a special education director license. Jennifer has been an educator for 14 years and has been designated as highly qualified to teach K-12 reading and math in the state of Minnesota. She worked for the Anoka Hennepin School District, Mounds View School District and the Minneapolis Public Schools. Jennifer creates a safe and positive learning environment for her students and implements quality teaching methods that help her students excel.
Megan Stone, M.Ed, Leadership Director and Teacher
Megan is the founder and president of Stone Foundations of Learning, Inc. and has been working with students and faculty members across the country for over 17 years. With a bachelor's degree in human biology and a master's degree in life science education from the University of Minnesota as well as hands-on classroom experience, Megan is highly qualified in the field of education. Early in her career, she taught science in the highly ranked Edina Public Schools before launching Stone Foundations of Learning, Inc. Megan walks alongside students and provides the tools they need to achieve success inside and outside the classroom.
Shaun provides both online and live training on mind strength to make our students exceptional. Shaun has had a passion for working with and helping kids and adolescents for the better part of his life. He grew up playing hockey and running cross country for his local high school and has also completed six marathons! With a bachelor's degree in communications, a master's degree in counseling psychology, and an undying love for athletics and coaching young people, Shaun has worked with LPGA golfers, national championship hockey players, professional triathletes, state champion football and hockey players, as well as those athletes who simply want to "make the team."
Every athlete deals with certain mental interferences and life impairments no matter what level they compete at. Shaun's ability to teach and inspire, along with his ability to communicate abstract ideas clearly, he is able to help each person he works with identify and look at ways they might be engaging in self-defeating patterns of thinking and/or acting, which results in an overall empowering experience for the individual, raising their level of mental toughness and overall self-esteem.
Paul Ostby, Director of Development
A native of Elk River and inductee into its Hall of Fame, Paul serves as the director of development for Gentry Academy. As a certified NHLPA agent, accomplished player, scout and coach, Ostby has a keen eye for talent and has built the relationships critical to building pathways for players.
As a walk-on in his freshman year, Paul rose to become the University of Minnesota's MVP his senior year, earning him a trip to the National Sports Festival. He went on to goaltend for the U.S. National team.
His understanding of the game led him to coaching for the St. Paul Vulcans, University of Minnesota, Shattuck St. Mary's, Apple Valley, Benilde St. Margaret, state-wide goalie camps and clinics, and scouting for the Washington Capitals. Paul focuses on scouting and marketing endorsements and supports overall player representation.
Ellie Wolter, Assistant Director of Dance and Teacher
Ellie has her Bachelor of Science degree in elementary education and English as a second language (ESL) from the University of Wisconsin-Eau Claire. She has two years of experience working with kindergarten through fifth grade students. She previously taught in the South Washington County School District. Ellie has a passion not only for education, but for sports as well. She grew up participating in many sports, including hockey, and continued to play into her first year of college. She has been teaching dance for four years, working with groups of children in K-12 grade. Ellie works to build a safe and fun learning environment for her students so that they can succeed in many ways!
Rachel Scanlan, Teacher
Rachel graduated from the University of Minnesota where she majored in biology and Italian. She then went on to complete her post-baccalaureate in science education and M.Ed. in curriculum and instruction at the University of Minnesota. She has over 10 years of teaching science in the classroom in addition to other subject areas. Rachel enjoys fostering her students' excitement in learning through tailored and engaging teaching techniques, and encourages involvement in activities such as Lego League Robotics. Rachel's passion for education is seen in her dedication to help her students succeed!
Jackie McClees, Teacher
Jackie has over 40 years of experience in math education and math curriculum development with the Minneapolis School System. She also directed a math project, Equals Minnesota, at the University of Minnesota. She has a math education degree from the University of Minnesota and has a current Minnesota teaching license. Jackie has consulted with and given math services to a variety of school districts in the Midwest.
Nick Stovall, CPA/PFSSM, CGMA, MBA, Director of Finance
Nick is at the forefront in accounting; strategic retirement planning; business, IRA and technical taxation; tax law and policy; and investing. In January 2010, after two decades of public accounting and C-level private industry experience, he founded what is now Stovall & Associates, Ltd., an independent certified public accounting firm located in Minnesota. As owner, president, and chief tax strategist for the company, Stovall provides an invaluable perspective on the intricate relationships between tax and business issues to clients across the United States and Europe.
With his extensive knowledge and background, Stovall also wrote "The Future of Taxation: And How to Prepare." Stovall had been featured on national media outlets including The Wall Street Journal's MarketWatch, Investment News, Financial Planning Magazine, Bloomberg and numerous radio broadcasts.
Heidi Larson, Licensed School Counselor
Heidi boasts an impressive background with over a decade of experience as a licensed school counselor. She earned her Bachelor of Arts in Psychology from Concordia University - St. Paul and her Master of Science in education from the University of Wisconsin - River Falls.
Passionate about working with high school students, Heidi has extensive knowledge assisting students in exploring educational and post-secondary opportunities. She has developed solid NCAA programs and curriculum to prepare students and athletes educationally and mentally for their post-secondary options.
Heidi was also recognized as a Leadership in Educational Excellence recipient in 2016. She has served as a student council advisor and senior class advisor, and has assisted students with developing leadership skills and being actively involved in their community through her role as an advisor.
When she is not working with students, giving back to the community is important to Heidi. She also enjoys working as a volunteer with her own children's athletic teams.
---
Athletics Coaches
Joe Jensen, Co-Director of Boys Hockey
Joe grew up in Plymouth, MN playing youth hockey for the Osseo-Maple Grove Hockey Association. His Pewee A team was the state champions in '94-95. His Bantam A team ('96-97) also won state and finished runner-up at nationals in Boston, MA to Compuware. He played for the '83 Minnesota Blades AAA team in the summers. He played junior hockey for the Sioux Falls Stampede in the USHL. He was co-captain with Thomas Vanek, and made the All-Star game and Viking Cup team. He was a three time All-Academic team winner for the St. Cloud State Huskies in the WCHA. He earned a degree in marketing before before turning pro. He was drafted by the Pittsburgh Penguins and signed a two-year deal. During his first year pro he was named to the All-Star Game in the ECHL and won the "Fastest Skater Award." He was traded to the Carolina Hurricanes halfway through his second year, where he played six games with the Hurricanes - scoring a game winning goal in his third game. Later, he moved overseas and played for the Brunico Wolves in the Italian Serie A and led the league in goals before ending his career in England. He was a coach for the Eden Prairie Bantam AA team during the 2013-2014 season and the 2003 MN Blades. He has a passion for coaching, training and mentoring hockey players in the area.
Billy Hengen, Co-Director of Boys Hockey
Billy grew up in Circle Pines, MN playing youth hockey for Centennial. His Bantam team was the first Centennial team at any level to earn a berth to a state tournament in 1996. He attended Holy Angels High School from '97-00, where he remains the all-time leading goal scorer with 106 career goals. His '99 Holy Angels team was the first from the school to play in the AA State tournament. He went on to play two years for the back-to-back USHL Anderson Cup Champion, Lincoln Stars, teams of '00-02. Collegiately, Hengen played with Joe Jensen '02-06 and they created a formidable line that led SCSU to 22 wins in 2006 and a Final Five championship appearance. After college, Hengen joined the Holy Angels HS Boys Varsity staff as an assistant from '06-11. He has served as head coach for the Holy Angels boys hockey team, Eden Prairie Bantam AA, and the 2003 Minnesota Blades. He has a passion for teaching scoring concepts, using video as a tool for young players, and being on the ice with the boys.
Martin Sertich, Hockey Instructor
Minnesota native Marty serves as the director of girls hockey at Gentry Academy and brings his lifelong passion for the sport with him. His love for the game is not only evident in his individual skills, but has also earned him national recognition through numerous prestigious awards.
Marty brings an array of valuable coaching skills to the program including superb puck handling, impressive speed and great on-ice vision. Through his determination, leadership ability and tireless work ethic, Marty's incredible prowess as a player is easily translated through his coaching and inspires his players both on and off the ice.
Jeff Burton, Girls Galaxy Head Coach and Skills Instructor
Jeff was born and raised in Minneapolis, MN. He began his hockey career playing for Minneapolis Roosevelt's youth association. He played varsity hockey for three years and lead the conference as the highest scoring defenseman his junior and senior year. Also during his high school career, he played hockey with the Minnesota Jr. North Stars, he appeared once in the Minnesota state high school hockey tournament, and was a three year captain of the varsity soccer team and captain of the baseball team. After high school, Jeff continued his athletic career attending the College of St. Scholastica where he played four years of baseball, breaking seven school records and playing hockey in the Northern Collegiate Hockey Association (NCHA) earning All American Honors.
Since college, Jeff has coached for two of the best hockey programs in Minnesota. He has most recently been coaching the top female players and top female teams in North America with the OS/WhiteCap program and with the Minnesota Elite League. When he is not coaching on the ice, he spends his time as a hockey skills instructor working on stickhandling, shooting, and developing proper skating fundamentals.
Brennan Poderzay, Goalie Director
Brennan hails from the small town of Tower, Minnesota, but his hockey ability has allowed him to travel the world. Brennan was a standout player at Hibbing High School and went on to play junior hockey after graduating. He played one year in the North American Hockey League (NAHL) and two years in the Ontario Junior Hockey League (OJHL). From there, he played for the College of St. Scholastica in Duluth, Minnesota, where his performance allowed him to take the ice at the professional level. He played professional hockey for six years, five of which were in Europe with stops in Finland, France, the Netherlands and Slovenia. Brennan also serves as the Minnesota Regional Goalie Scout and mentor for the USA Hockey's National Team Development Program (NTDP), as well as the goalie coach for Minnesota State University, Mankato men's hockey team.
Andrew Lecker, Director of Lacrosse
Andrew is the founder and director of the STX Minnesota Shootout Lacrosse Tournament and founder of the Lacrosse Monkey Club. Andrew began coaching girls' lacrosse in 2006 as the inaugural varsity head coach for Cretin-Derham Hall (CDH) high school in St. Paul, MN. Prior to working at CDH, he taught physical education in Dallas, TX to elementary and middle school students. He has a Bachelor of Science degree in physical education from the University of North Dakota and a master's degree in sports administration from the University of St. Thomas. Andrew works alongside the athletes to teach them teamwork, respect for others, and the importance of using their talents every day.
Jon Reigstad, Director of Golf
Jon is director of golf for Gentry Academy and boasts an impressive background. He is a PGA teaching professional who received a degree in business administration in marketing with a specialization in Professional Golf Management (PGM) from New Mexico State University. He was the assistant golf professional at Troy Burne Golf Club from '06 to '08, and has experience playing on multiple mini-tours across the United States.
Jon believes there is no one swing or playing strategy that is identical between students. Certain golf swing fundamentals may present differently based on body type, physical capabilities and age. Additionally, he believes that playing strategies differ between players based on individual personality. He will assess the individual and find characteristics both physically and mentally that will make him or her the best possible player.
Carol Anderson, Director of Dance
Carol is the director of dance for Gentry Academy. She is also the owner and master instructor of 4th Street Dance Centre. As an instructor for over 30 years, she brings experience to the classroom. Carol's choreography in all areas of dance has been recognized at state and national levels.
Her talented students have competed on the regional and national stages winning top honors. Many of her students have continued their dance experience in the professional fields of film, professional team dancers, dance educators and stage productions. She is honored to have welcomed many alumni back to 4SDC as members of her staff over the past 30 years.
Her expertise is called upon for judging at national competitions. She is licensed with Dance Educators of America and Professional Dance Teachers of America.
Tiffany Saltness, Director of Gymnastics
Tiffany has been coaching gymnastics for 30 years at all levels of the sport, from preschool to high school. She has a BA in education and psychology from Hamline University. She also has experience choreographing floor routines at multiple levels of the sport. She started as a gymnast herself at 3 years old and began competing at the age of seven. From there, she competed throughout her academic career, both in high school and at the collegiate level at Hamline University, where she received Academic All American honors. Her favorite event is the balance beam. If you ask her what she specializes in, her answer is simply loving all things gymnastics!
Bruce Martens, Cycling Program Director
After six years of working to develop, implement, and maintain the Minnesota High School Cycling League as a founding member and three years working as the National Interscholastic Cycling Association (NICA) Coach Licensing and Registration Manager, Bruce Martens has returned to serve Minnesota as Gentry Academy's Director of Cycling Programs.
As a youth cycling coach, Bruce enjoys the process of collaboration to design and implement programs that will help each student-athlete reach their goals, both on and off the bike. Bruce has been working with student-athletes since 2004 and has devoted himself to building programs that maximize the competence, confidence, connection, character, life skills, positive affect, and psychosocial capacities cycling promotes.
Bruce attended Minnesota State University, Mankato as an undergraduate double majoring in microbiology and chemistry and the University of Minnesota's master's program for Integrated Behavioral Health, specializing in adolescent development.
Sean Molin, Hockey Instructor and Girls Galaxy Coach
Sean serves as a lead hockey instructor at Gentry Academy. Sean played for Roseville High School's hockey team, serving as team captain in his senior year, and went on to play for Bethel University for four years. Sean's passion for hockey fundamentals led him to become a sought-after hockey instructor for all ages. Sean's commitment to excellence inspired him to become both Power Edge Pro (PEP) certified and an NSC adult skills coach. As a certified life coach, Sean creates more than just elite hockey players, he creates elite individuals.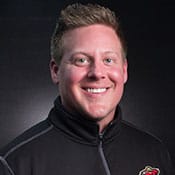 Cole Bassett, Hockey Instructor
Cole brings a vast amount of experience in both on-ice skill development and coaching for Gentry Academy. Cole's coaching career started when he volunteered with the '08 MN State Champions Hill-Murray. Cole went on to become an assistant coach with the US National Under-18 Team Development Program for two years, working mainly with the '92 birth year. The team won the '10 IIHF Under-18 World Championships Gold Medal. Cole has since returned to Minnesota where he was the Minnesota regional scouting manager and head bantam scout for the NTDP from '12-15. Responsibilities included identifying the top talent in MN at the 14 and 15 year old age range as potential prospects for the NTDP. Cole has worked multiple camps and clinics and is very passionate about teaching hockey and giving back to today's youth.
Meaghan Pezon, Hockey Instructor
When Meaghan was growing up, she spent a lot of time skating on the rink in her backyard. By high school, Meaghan's prowess on the ice was solidified. As a senior at Eden Prairie, she led her team to an undefeated season and its first state championship. She played with the St. Cloud State Huskies for four years, where her decisive skating and dominant delivery as a forward helped the fledgling program develop into a serious division contender. During her senior year, she helped the Huskies finish third in the WCHA. Additionally, Meaghan was named the "Offensive Player of the Week" by US College Hockey Online in both '07 and '06. Meaghan was a member of the 2011 Minnesota Whitecaps WWHL championship team and continues to play professional hockey with them.
Justin Grant, Goalie Instructor
Justin was born and raised in Burlington, Iowa. He played high school hockey in the Quad City's and he went on to play two seasons of junior hockey in the WJHL - winning championships both seasons. Justin played college hockey in the NCAA for Northland College and went on to play three seasons of class A and two seasons of AA professional hockey. He has also attended main training camps and played for teams in the CHL, IHL, SPHL, AAHA and AAHL. Justin has been a full time goalie coach for the last four seasons. He currently works with Centennial High School (four seasons) and Centennial Youth Hockey Association (two seasons with the AA Bantam's), but has also spent time with Shakopee High School (two seasons). Justin has enjoyed two section championships and one VFW state championship (both Centennial).
Barry Karn, Dynamic Skating Instructor
Over the course of his 30-year career, Barry has developed an innovative and dynamic approach that has made him one of the NHL's most sought-after skating instructors. Currently, Barry is the skating coach for the Minnesota Wild. During the off-season, Barry works with a growing number of NHL skaters on an individual basis. Previously, Barry was the skating coach for the Calgary Flames, Tampa Bay Lightning, St. Louis Blues, Chicago Blackhawks, Phoenix Coyotes and New York Islanders.
In addition to his professional coaching career, Barry is also a co-owner of Karn Skating Dynamics, the largest skating school of its kind in North America. As a year-round school, Karn Skating Dynamics teaches up to 450 students per week, and works with hundreds of teams, coaches, hockey associations and clubs in both the United States and Canada. Karn Skating Dynamics has taught tens of thousands of students of all skill levels, ranging from mites to pros.
Joe Dziedzic, Hockey Instructor
In 1990, during his senior year at Edison High School, Joe was named Minnesota's "Mr. Hockey." Later that same year, he was drafted by the Pittsburgh Penguins, making him the #61 overall draft pick in the NHL Amateur Draft. Joe went on to play for the University of Minnesota, and then played professionally for five years, skating alongside NHL legends such as Mario Lemieux and Jaromir Jagr. Due to an unfortunate eye injury, Joe retired in 1999 and began his coaching career. Joe's reputation as a coach has been built through his success coaching in the Upper Midwest High School Elite League, as well as through the founding of Team Reebok AAA Hockey (now the TC Penguins) and the creation of his JD Hockey Skills Training programs. Joe has trained thousands of hockey players of all ages, including many current college and pro players.
Sean Skinner, Hockey Instructor
Sean is a world renowned professional ice hockey skills coach and coaching instructor. He has worked for Hockey Canada, the Swedish Hockey Federation, USA Hockey, Int'l Ice Hockey Federation, the top Russian ice hockey clubs, and NHL teams such as the Montreal Canadians. Sean has also worked with several NHL athletes, including Alexander Ovechkin.
Sean helps student-athletes who are preparing to play collegiate and professional hockey. In addition, he develops all attending players in hockey skills, tactics, systems, strengths, conditioning, dryland training, positioning and hockey sense.
Scott Bjugstad, Hockey Instructor
Scott is a Minnesota native and natural-born hockey player. Before he began playing professionally, Scott enjoyed a successful career with the University of Minnesota – leading his team to two NCAA Final Fours. After graduating college, he played for the U.S. hockey team in the 1984 Winter Olympics, and was the team's second leading scorer. In 1984, Scott began his 10-year career in the NHL, playing for the Minnesota North Stars, Pittsburgh Penguins and Los Angeles Kings. Before leaving the NHL in 1994, Scott had the fortune of playing with Wayne Gretzky for the last five years of his playing career.
Shortly after leaving the NHL, Scott began his equally successful coaching career. He coached the Blaine High School hockey team from 1996-2000, and led his team to the state tournament in three out of the five years. Scott's incredible coaching ability and unwavering commitment to his team was recognized in 2000 when he was named the Minnesota State High School Hockey Coach of the Year. Since then, Scott has trained over 300 NHL and Division I hockey players and more than 10,000 amateur players. Currently, he is the shooting instructor for the Minnesota Wild Rookie Camp, and continues to conduct his own elite training programs to help young players become the best and most efficient goal scorers that they can be.
To learn more about Scott, visit his website at www.scottbjugstad.com.